'It's only working for the white kids': American soccer's diversity problem
Football is the world's great democratic game. But in the US success is often determined by the wealth of a player's parents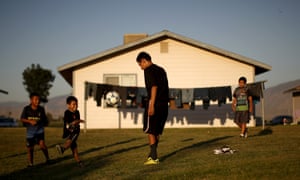 As Doug Andreassen, the chairman of US Soccer's diversity task force, looks across the game he loves, all he can see is a system broken in America. And he wonders why nobody seems to care.
He sees well-to-do families spending thousands of dollars a year on soccer clubs that propel their children to the sport's highest levels, while thousands of gifted athletes in mostly African American and Latino neighborhoods get left behind. He worries about this inequity. Soccer is the world's great democratic game, whose best stars have come from the world's slums, ghettos and favelas. And yet in the US the path to the top is often determined by how many zeroes a parent can write in their checkbook.
Andreassen watches his federation's national teams play, and wishes they had more diversity. Like many, he can't ignore the fact that last year's Women's World Cup winners were almost all white, or that several of the non-white players on the US Copa America roster grew up overseas. The talents of some of America's best young players are being suffocated by a process that never lets them be seen. He sighs.
"People don't want to talk about it," he says.
Andreassen used to dance gingerly around the topic, using the same careful code words as the other coaches and heads of leagues, trying not to push or offend only to find that little changed. He has stopped being political. He is frustrated. He is passionate. He is blunt. to read more of this story, click here